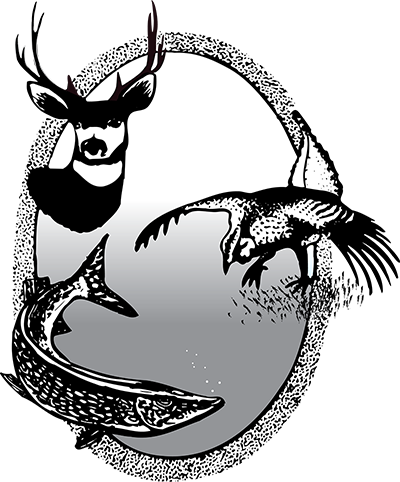 2017 CWD Surveillance
The state Department will continue its Hunter-Harvested Surveillance program during the 2017 deer hunting season, by sampling deer for chronic wasting disease and bovine tuberculosis from 10 units in North Dakota. In addition, all moose and elk harvested in the state are eligible for testing.
Samples from hunter-harvested deer taken in the central portion of the state will be tested from units 2H, 2I, 2J1, 2J2, 2K1, 2K2, 3A4, 3B3 and 3C. In addition, deer will be tested from unit 3F2 in the southwest.
Every head sampled must have the deer tag attached. A new tag can be filled out with the license number, deer hunting unit and date harvested.
Moose and elk heads should be taken to a Game and Fish office.
CWD affects the nervous system of members of the deer family and is always fatal. Scientists have found no evidence that CWD can be transmitted naturally to humans or livestock.
Winter Fishing Regulations
Anglers are encouraged to refer to the 2016-18 North Dakota Fishing Guide for winter fishing regulations.
Some winter fishing regulations include:
A maximum of four poles is legal for ice fishing. However, when fishing a water body where both open water and ice occur at the same time, an angler is allowed a maximum of four poles, of which no more than two poles can be used in open water.
Tip-ups are legal, and each tip-up is considered a single pole.
There is no restriction on the size of the hole in the ice while fishing. When a hole larger than 10 inches in diameter is left in the ice, the area in the immediate vicinity must be marked with a natural object.
It is only legal to release fish back into the water immediately after they are caught. Once a fish is held in a bucket or on a stringer, they can no longer be legally released in any water.
It is illegal to catch fish and transport them in water.
It is illegal to leave fish, including bait, behind on the ice.
Depositing or leaving any litter or other waste material on the ice or shore is illegal.
Any dressed fish to be transported, if frozen, must be packaged individually. Anglers are not allowed to freeze fillets together in one large block. Two fillets count as one fish.
The daily limit is a limit of fish taken from midnight to midnight, and no person may possess more than one day's limit of fish while actively engaged in fishing. The possession limit is the maximum number of fish that an angler may have in his or her possession during a fishing trip of more than one day.
Deer Season Questions and Answers
The North Dakota Game and Fish Department receives questions every year from deer hunters who want to clarify rules and regulations. Some common questions can be found here and here.
Advisory Board Meetings Set
Outdoor enthusiasts are invited to attend a North Dakota Game and Fish Department fall advisory board meeting in their area.
These public meetings, held each spring and fall, provide citizens with an opportunity to discuss fish and wildlife issues and ask questions of their district advisors and agency personnel.
The governor appoints eight Game and Fish Department advisors, each representing a multi-county section of the state, to serve as a liaison between the department and public.
Any person who requires an auxiliary aid or service must notify the contact person at least five days prior to the scheduled meeting date.
Darkhouse Spearfishing Registration
North Dakota's darkhouse spearfishing season opens on most state waters December 1. The season extends through March 15. Legal fish are northern pike and nongame species. Darkhouse spearing is allowed for all residents with a valid fishing license and for residents under age 16.
Nonresidents may darkhouse spearfish in North Dakota if they are from states that offer the same privilege for North Dakota residents.
All individuals who participate in darkhouse spearfishing must register with the North Dakota Game and Fish Department prior to participating. Registration is available at the Department's website, or through any Game and Fish Department office.
All waters open to hook and line fishing are open to darkhouse spearing except: Braun Lake, Logan County; East Park Lake, West Park Lake, Lake Audubon, McLean County; Heckers Lake, Sheridan County; McClusky Canal; New Johns Lake, Burleigh County; Red Willow Lake, Griggs County; and Sweet Briar Dam; Morton County.
Anglers should refer to the 2016-18 North Dakota Fishing Guide for more information.
Order 2018 Outdoors Calendars
The North Dakota Game and Fish Department is taking orders for its North Dakota OUTDOORS calendar, the source for all hunting season and application dates for 2018. Along with outstanding color photographs of North Dakota wildlife and scenery, it also includes sunrise-sunset times and moon phases.
To order online, visit the Game and Fish website, or send $3 for each, plus $1 postage, to: Calendar, North Dakota Game and Fish Department, 100 N. Bismarck Expressway, Bismarck, ND 58501-5095. Be sure to include a three-line return address with your order, or the post office may not deliver our return mailing.
The calendar is the North Dakota OUTDOORS magazine's December issue, so current subscribers will automatically receive it in the mail.