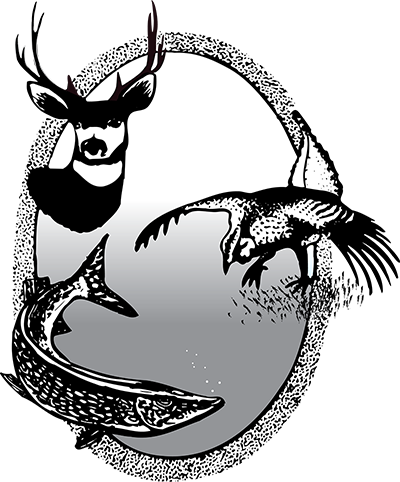 Record Number of Lakes Stocked
Baiting Restrictions
Hunters are reminded it is unlawful to hunt big game over bait, or place bait to attract big game for the purpose of hunting, in deer units 3A1, 3A2, 3A3 north of U.S. Highway 2, 3B1, 3C west of the Missouri River, 3E1, 3E2, 3F1, 3F2, 4A, 4B and 4C.
The restriction is in place to help slow the spread of chronic wasting disease, a fatal disease of deer, moose and elk that can cause long-term population declines if left unchecked.
In addition, baiting for any purpose is prohibited on all North Dakota Game and Fish Department wildlife management areas. Hunting big game over bait is also prohibited on all U.S. Fish and Wildlife Service national wildlife refuges and waterfowl production areas, U.S. Forest Service national grasslands, U.S. Army Corps of Engineers managed lands, and all North Dakota state trust, state park and state forest service lands.
Report Banded Birds
Hunters should check harvested migratory birds for bands this fall and report federal bands at reportband.gov.
In addition, the bird banding lab has a mobile friendly reporting site that will aid hunters to report bands via mobile devices.
The band number, date and location of each recovery are needed. After the band information is processed, hunters can request a certificate of appreciation, and information about the bird will be returned in an email. Hunters can keep all bands they recover. Information received from hunters is critical for management of migratory game birds.
Survey Wings
New Hunting, Trapping Guide
WMA Equipment Requirement
Transporting Big Game
Federal Duck Stamp Required
A federal duck stamp is required for waterfowl hunters age 16 and older beginning September 1. Waterfowl includes ducks, geese, swans, mergansers and coots.
This year's 2020--21 federal duck stamp is available for electronic purchase online, instant licensing telephone number, 800-406-6409, or at license vendors registered with the Department's licensing system.
Physical stamps are not available at North Dakota license vendors, but can still be purchased at many U.S. Postal Service offices.
The electronic stamp is a purchase item like any other hunting or fishing license. When the purchase is completed the electronic stamp is valid immediately. Federal Duck Stamp will be printed on the license certificate, along with an expiration date 45 days from the date of purchase. The actual physical stamp will be sent by postal mail.
The physical stamp is processed and sent by the official duck stamp vendor in Texas, and should arrive to the individual buyer well before the expiration date printed on the electronic license. The physical stamp must remain in possession of the hunter after the 45-day electronic stamp has expired. Individuals who have questions regarding the status of their physical stamp can contact the federal duck stamp vendor customer service at 800-852-4897.
The federal duck stamp has a fee of $25. An additional $1.50 fee is added to cover shipping and handling costs of the physical stamp.
Wildlife Photo Contest Deadline
With the October deadline for the North Dakota Game and Fish Department's Watchable Wildlife Photo contest nearing, photographers are reminded to follow the guidelines for submitting their entries.
Photographers who want to submit photos to the contest should do so online. Then it is a matter of providing some pertinent information about the photo and uploading it.
Doing so helps both with ease of submitting photos for the photographer and managing those images for Game and Fish staff.
The contest deadline for submitting photos is Oct. 2. For more information or questions, contact conservation biologist Patrick Isakson at pisakson@nd.gov.
The contest has categories for nongame and game species, as well as plants/insects. An overall winning photograph will be chosen, with the number of place winners in each category determined by the number of qualified entries.
Contestants are limited to no more than five entries. Photos must have been taken in North Dakota.
By submitting an entry, photographers grant permission to Game and Fish to publish winning photographs in North Dakota OUTDOORS, and on the Department's website.
Sandhill Crane Permits Required
Hunter Education
Get HIP Registered
Migratory bird hunters of all ages need to register with the Harvest Information Program prior to hunting ducks, geese, swans, mergansers, coots, cranes, snipe, doves and woodcock. Hunters must register in each state they are licensed to hunt.
Hunters can HIP certify when purchasing a license at the North Dakota Game and Fish Department website. In addition, hunters can call 888-634-4798 and record the HIP number on their printed license.
Those who registered to hunt the spring light goose season in North Dakota do not have to register with HIP again, as it is required only once per year.
HIP registration is a cooperative program designed to determine a sample of hunters from which to measure the harvest of migratory birds for management purposes.
Caution on Rural Roads
North Dakota hunters need to be cautious of farm, ranch and other traffic when traveling on rural roads.
Fall is a busy time in the state as farmers and ranchers are harvesting crops, moving cattle, hauling bales and moving heavy machinery. Knowing this, hunters driving around on country roads should slow down when meeting another vehicle and pull well to the right when topping a hill.
To maintain positive landowner/hunter relations, Game and Fish Department officials said hunters should move to the right side of the road to allow wide farm vehicles to pass, park vehicles in a place that will not block a roadway, field approach or gate, pick up trash and empty shells, and not clean game in the road ditch or approach.
Zebra Mussels Discovered in Lake LaMoure
Remove aquatic vegetation before leaving the water access and do not import into North Dakota.
Drain all water before leaving the water access.
Remove drain plugs and devices that hold back water and leave open and out during transport.
Do not import bait. For Class I ANS Infested waters, bait cannot be transported in water. In all other areas, bait must be transported in a container that holds 5 gallons or less. Remember that it is illegal to dump unused bait on shore or into the lake.
In addition to North Dakota regulations, the Department strongly recommends that all equipment be cleaned, drained and dried every time it is used.
Clean – remove plants, animals and excessive mud prior to leaving a water access.
Drain – drain all water prior to leaving a water access.
Dry – allow equipment to dry completely before using again or disinfect. This includes boat docks and boat lifts brought from other waters/states.