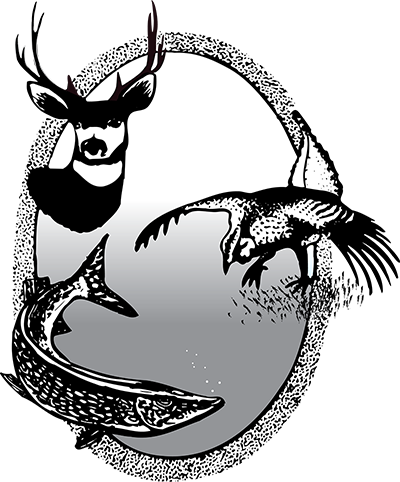 Authors and Contributors
Testing for CWD
Alexander – Sather Lake Recreation Area
Amidon – Mo's Bunker Bar
Beach – Gooseneck Implement
Belfield – Badlands Taxidermy, Game and Fish disposal site, Superpumper
Bismarck – 3Be Meats, Game and Fish office, West Dakota Meats
Blaisdell – BJ Taxidermy
Bottineau – Mattern Family Meats
Bowbells – The Joint
Bowman – Frontier Travel Center
Carson – Hertz Hardware
Crosby – Cenex/New Century Ag
Dickinson – Game and Fish office, Wildlife Creations
Elgin – Gunny's Bait and Tackle, Melvin's Taxidermy
Flasher – Game and Fish disposal site
Fort Yates – Prairie Knights Quik Mart
Fortuna – The Teacher's Lounge
Garrison – Myers' Meats and Supplies
Glen Ullin – Kuntz's Butcher Shop
Grassy Butte – Sweet Crude Travel Center
Grenora – Farmer's Union
Hettinger – Dakota Packing
Kenmare – Jessica Ware's Taxidermy, Farmers Union
Killdeer – Grab N Go
Mandan – Butcher Block Meats
Minot – Blom's Locker and Processing, Frenchy's Taxidermy, State Fairgrounds, Wallen's Taxidermy
Mohall – Engebretson Processing, Farmer's Union
Mott – 4 Corners Car Wash
New Leipzig – Hertz Hardware, Game and Fish disposal site
New Salem – Arrowhead Inn
New Town – TAT Fish and Wildlife Division Office
Parshall – Myers' Meats and Supplies
Powers Lake – Farmers Union
Ray – Horizon-Cenex, Thoreson's Meat Processing
Richardton – Farmers Union
Riverdale – Game and Fish office
Scranton – Wolf's Meat Processing
Selfridge – Cenex
Sentinel Butte – Buffalo Gap Guest Ranch
Solen – Hettich Salvage
Stanley – Ace Hardware
Tioga – Recycling Center
Watford City – Farmers Union Cenex, Forest Service office
Williston – Bickler Taxidermy, Dave's Heads or Tails Taxidermy, Mounts By Mert, Game and Fish office, Zerr's Taxidermy
Mussels on the Sheyenne River
Winter Fishing Regulations
Advisory Board to Livestream Fall Meetings
The North Dakota Game and Fish Department Advisory Board will host its fall round of public meetings online this year due to the ongoing coronavirus pandemic.
Districts 1, 2, 7 and 8, which make up roughly the western half of the state, will have their combined meeting on Monday, Nov. 30. Districts 3, 4, 5 and 6 in the eastern part of the state, will follow on Tuesday, Dec. 1. Both meetings will start at 7 p.m. Central Time and conclude around 9 p.m.
The meetings will begin with department presentations, followed by questions and answers with select staff, including director Terry Steinwand and deputy director Scott Peterson.
Outdoor enthusiasts are invited to this public livestream event by visiting the Game and Fish website on the days of the meetings. Questions can be submitted in advance at ndgflive@nd.gov, or via live chat during the event.
Wildlife Viewing Devices on Private Land
Outdoor recreationists who install devices for viewing wildlife on private land should be aware of a state law that was passed during the 2019 legislative session.
The law requires an individual who enters private property and installs a device for observing, recording or photographing wildlife to receive written permission from the landowner. Otherwise, the device must be identified with a permanently affixed metal or plastic tag with either a registration number issued by the North Dakota Game and Fish Department, or the individual's name, address and telephone number.
An equipment registration number can be generated by visiting "Buy and Apply" at the Game and Fish website. One registration number will be issued that can be used on all equipment that requires identification.
The equipment registration number does not expire.
Darkhouse Spearfishing Registration
Order 2021 OUTDOORS Calendars
The North Dakota Game and Fish Department is taking orders for its North Dakota OUTDOORS calendar, the source for all hunting season and application dates for 2021. Along with outstanding color photographs of North Dakota wildlife and scenery, it also includes sunrise-sunset times and moon phases.
Order online or send $3 for each, plus $1 postage, to: Calendar, North Dakota Game and Fish Department, 100 N. Bismarck Expressway, Bismarck, ND 58501-5095. Be sure to include a three-line return address with your order, or the post office may not deliver our return mailing.
The calendar is the North Dakota OUTDOORS magazine's December issue, so current subscribers will automatically receive it in the mail.
Dead Deer Permit Needed
North Dakota Game and Fish Department enforcement personnel are issuing a reminder that a permit is required before taking possession of a dead deer found near a road or in a field. Only shed antlers can be possessed without a permit.
Permits to possess are free and available from game wardens and local law enforcement offices.
Staff Notes