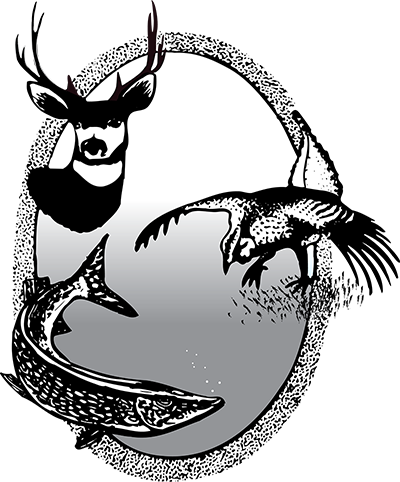 Buffaloberry Patch (June 2020)
Authors and Contributors
Spring Mule Deer Survey Complete
Practice Patience at Boat Ramps
Launching
Don't pull onto the ramp until your boat is ready to launch.
Prepare for launching in the parking area. Remove covers, load equipment, remove tie downs, attach lines and put in drain plug, before backing onto the ramp.
When ready, pull into line to launch. Wait your turn. Be courteous.
It takes at least two people to efficiently and courteously launch a boat: one to handle the boat and one to take care of the tow vehicle.
Loading
Don't block the loading area with your boat until your tow vehicle is ready to load. Wait until you are clear of the launch area to unload gear.
As soon as your trailer is in the water, load and secure your boat to the trailer.
Remove boat and trailer from the water as quickly as possible.
Get clear of the ramp. Pull into the parking area to finish securing your boat, unloading gear, draining all water and inspecting for and removing any vegetation. Remember to leave plugs out when transporting boat.
Walleye Tagging Studies
White-Nose Syndrome Kills Bats
Preventing the Spread of Aquatic Nuisance Species
North Dakota anglers, water recreationists and anyone working in lakes or streams are reminded to follow these simple regulations to help prevent the spread of aquatic nuisance species.
Know the laws, as each state and province have their own rules and regulations. North Dakota regulations include:
Do not import live aquatic bait.
Use only legal bait species.
Transport live bait in containers of 5 gallons or less.
Properly dispose of unused bait.
Drain water and remove vegetation from all equipment when leaving a waterbody.
Remove drain plugs and keep out or open during transport.
Anglers may not transport live bait in water away from any Class I ANS infested water (currently the Red River, Lake Ashtabula, and the Sheyenne River from Lake Ashtabula downstream to the Red River).
Clean, drain and dry any equipment (recreational or commercial) that is used in any waterbody.
Clean: remove plants, animals and excessive mud from trailers, hulls, motors and other equipment such as fishing gear and watersports equipment.
Drain: drain all water, including bilges, livewells and bait buckets.
Dry: allow all equipment to dry completely or decontaminate before using again. If necessary, use sponges or towels to remove excess water and allow compartments to dry.
Report any plant or animal that seems out of place.
Visit the online reporting form at the Game and Fish website, gf.nd.gov.
Also, North Dakota boaters who are traveling to or through other states or Canadian provinces, are reminded to check the aquatic nuisance species regulations of their destination, to make sure they are in compliance.
Mandatory boat inspections may be required along highways or at lakes based on destination or route taken. In general, to ensure compliance, boaters are encouraged to clean, drain and dry equipment.
Public Asked for Help to Prevent Rabbit Disease
White Suckers Only Legal in Bois de Sioux, Red Rivers
The Department reminds anglers that live white suckers are not legal baitfish anywhere in North Dakota, except in the Bois de Sioux and Red rivers.
Although anglers can use live white suckers on the Bois de Sioux and Red rivers, and tributaries up to the first vehicular bridge, they are illegal elsewhere.
Fathead minnows, sticklebacks and creek chubs are the only legal live baitfish outside of the Bois de Sioux and Red rivers. Dead white suckers which have been preserved by freezing, salting or otherwise treated to inactivate reproductive capabilities are legal bait.
Transportation of live white suckers, other than in Richland, Cass, Traill, Grand Forks, Walsh and Pembina counties, is illegal.
Anglers are also reminded that live baitfish, or other live aquatic bait such as leeches, cannot be transported from another state into North Dakota.
Illegal to Import Live Aquatic Bait
Anglers are reminded that it is illegal to import minnows and other forms of live aquatic bait into North Dakota.
Anglers should buy bait from a licensed North Dakota retail bait vendor. Bait vendors can properly identify species and have taken steps to ensure all bait is clean of any aquatic nuisance species.
For more information, refer to the 2020-22 North Dakota Fishing Guide.
Leave Baby Animals, Watch for Deer
Watchable Wildlife Photo Contest
While contest guidelines for the North Dakota Game and Fish Department's Watchable Wildlife Photo Contest have change little from previous years, photographers are reminded to follow the guidelines for submitting their work.
Photographers who want to submit photos to the contest should go the Department's website at gf.nd.gov/photo-contest. Then it is a matter of providing some pertinent information about the photo and uploading it.
Doing so helps both with ease of submitting photos for the photographer and managing those images for Department staff.
The contest is now open and the deadline for submitting photos is October 2. For more information or questions, contact Patrick Isakson, Department conservation biologist, at pisakson@nd.gov.
The contest has categories for nongame and game species, as well as plants/insects. An overall winning photograph will be chosen, with the number of place winners in each category determined by the number of qualified entries.
Contestants are limited to no more than five entries. Photos must have been taken in North Dakota.
By submitting an entry, photographers grant permission to Game and Fish to publish winning photographs in North Dakota OUTDOORS, and on the Department's website.
Habitats Workshop Offered Online
Habitats of North Dakota, a workshop for teachers, environmental educators and anyone who works with youth, will be offered online June 30 to July 17.
Instructor Sherry Niesar said the program features new material using inquiry and project-based learning.
"The materials presented will align with the North Dakota Envirothon Wildlife learning objectives," Niesar said. "Students will explore current issues in conservation management, North Dakota habitats, wildlife species and wildlife adaptations."
Different instructional methods will be used to teach across the curriculum integrating subject areas. Curriculum materials are suitable for both elementary and secondary teachers. All supplies will be provided.
The workshop will contain many activities educators can use in the classroom, discussion of classroom and curriculum integration, and self-guided walking field trips at the location of the student's choice, in their yard, or if needed, can be completed using nature programming or live webcams.
To register for the workshop, visit the Dickinson State University West River Teacher Center website. One graduate credit is available.
For more information, contact Sherry Niesar at 701-527-3714 or online.
Put Garbage Where it Belongs
The North Dakota Game and Fish Department reminds outdoor recreationists to keep it clean this summer by packing out all trash.
All garbage, including used fireworks, should be placed in a proper trash receptacle. If trash cans aren't available, or are full, take the trash and dispose of it at home.
It is not uncommon to see garbage piling up around full trash containers. Styrofoam containers are not biodegradable, but are often found wedged in cattails, drifting or washed up on shore.
Tires, mattresses and kitchen appliances have found their way to public use areas. This illegal dumping is costly to clean up and takes a significant toll on the environment. Not only does it spoil the beauty of the land, it destroys habitat, has the potential to pollute North Dakota waters and can injure wildlife.
Littering violations should be reported by calling the Report All Poachers hotline at 701-328-9921.
Staff Notes