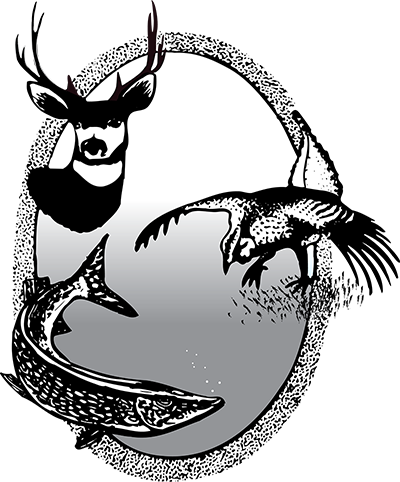 Authors and Contributors
Upland Bird Numbers Improving
General Game and Habitat License Required
Coveted Bighorn Licenses Allocated
Motorists Warned to Watch for Deer
Motorists are reminded to watch for deer along roadways this time of year because juvenile animals are dispersing from their home ranges.
October through early December is the peak period for deer-vehicle accidents. Motorists are advised to slow down and exercise caution after dark to reduce the likelihood of encounters with deer along roadways. Most deer-vehicle accidents occur primarily at dawn and dusk when deer are moving around.
Motorists should be aware of warning signs signaling deer are in the area. When you see one deer cross the road, look for a second or third deer to follow. Also, pay attention on roadways posted with Deer Crossing Area caution signs.
Deer-vehicle accidents are at times unavoidable. If an accident does happen, law enforcement authorities do not have to be notified if only the vehicle is damaged. However, if the accident involves personal injury or other property damage, then it must be reported.
In addition, a permit is still required to take parts or the whole carcass of a road-killed deer. Permits are free and available from game wardens and local law enforcement offices.
A few precautions can minimize chances of injury or property damage in a deer-vehicle crash.
Always wear your seat belt.
Don't swerve or take the ditch to avoid hitting a deer. Try to brake as much as possible and stay on the roadway. Don't lose control of your vehicle or slam into something else to miss the deer. You risk less injury by hitting the deer.
If you spot deer ahead, slow down immediately and honk your horn.
Waterfowl Hunters Reminded of ANS Regulations
Water Recreationists, Property Owners Asked to Help Search for ANS
Order 2021 OUTDOORS Calendars
The North Dakota Game and Fish Department is taking orders for its North Dakota OUTDOORS calendar, the source for all hunting season and application dates for 2021. Along with outstanding color photographs of North Dakota wildlife and scenery, it also includes sunrise-sunset times and moon phases.
Order online, or send $3 for each, plus $1 postage, to: Calendar, North Dakota Game and Fish Department, 100 N. Bismarck Expressway, Bismarck, ND 58501-5095. Be sure to include a three-line return address with your order, or the post office may not deliver our return mailing.
The calendar is the North Dakota OUTDOORS magazine's December issue, so current subscribers will automatically receive it in the mail.
Youth Waterfowl Hunting Trailer Available
The North Dakota Game and Fish Department and Ducks Unlimited co-sponsor a trailer full of waterfowl hunting gear that is available to families with young hunters.
Purchased by the Game and Fish Department's Encouraging Tomorrow's Hunters grant program, the trailer is designed for families who don't have the appropriate gear for their young hunters to hunt waterfowl. The equipment is donated by Avery Outdoors.
Use of the trailer is free, and it is equipped with goose and duck decoys for field hunting, and two bags of floating duck decoys and marsh seats for hunting a wetland.
For more information, or to reserve equipment, contact the Ducks Unlimited office in Bismarck at 701-355-3500.
Prepping for the Deer Gun Season
Hunting from Duck Boats Safely
Waterfowlers hunting from boats are encouraged to wear properly-fitted life jackets while on the water.
Hunting jackets with built-in life jackets are light and comfortable to wear. In addition, wearing a life jacket will not only keep the overboard hunter afloat, but also slows the loss of critical body heat caused by exposure to cold water.
Capsizing and falling overboard from small boats are the most common types of fatal boating accidents for hunters.
PLOTS Guides Online
The North Dakota Game and Fish Department's Private Land Open To Sportsmen Guide for 2020 is now available online at the Game and Fish website, gf.nd.gov. In addition, the free printed PLOTS guides are available at most license vendors and other locations throughout the state.
The guide features about 800,000 PLOTS acres. Because the guide is printed in mid-August, some PLOTS tracts highlighted in the guide may have been removed from the program since the time of printing. There will also be some PLOTS tracts where the habitat and condition of the tract will have changed significantly. Conversely, Game and Fish may have added new tracts to the program after the guide went to press.
To minimize possible confusion, Game and Fish will update PLOTS map sheets weekly on its website.
The PLOTS guide features maps highlighting these walk-in areas, identified in the field by inverted triangular yellow signs, as well as other public lands.
The guides are not available to mail, so hunters will have to pick one up at a local vendor, or print individual maps from the website.
Whooping Crane Migration
Whooping cranes are in the midst of their fall migration and sightings will increase as they make their way into and through North Dakota over the next several weeks. Anyone seeing these endangered birds as they move through the state is asked to report sightings so the birds can be tracked.
The whooping cranes that do make their way through North Dakota each fall are part of a population of about 500 birds that are on their way from nesting grounds at Wood Buffalo National Park in Canada to wintering grounds at Aransas National Wildlife Refuge in Texas, a distance of about 2,500 miles.
Whoopers stand about five feet tall and have a wingspan of about seven feet from tip to tip. They are bright white with black wing tips, which are visible only when the wings are outspread. In flight they extend their long necks straight forward, while their long, slender legs extend out behind the tail. Whooping cranes typically migrate singly, or in groups of 2-3 birds, and may be associated with sandhill cranes.
Other white birds such as snow geese, swans and egrets are often mistaken for whooping cranes. The most common misidentification is pelicans, because their wingspan is similar, and they tuck their pouch in flight, leaving a silhouette like a crane when viewed from below.
Anyone sighting whoopers should not disturb them, but record the date, time, location and the birds' activity. Observers should also look closely for and report colored bands which may occur on one or both legs. Whooping cranes have been marked with colored leg bands to help determine their identity.
Staff Notes