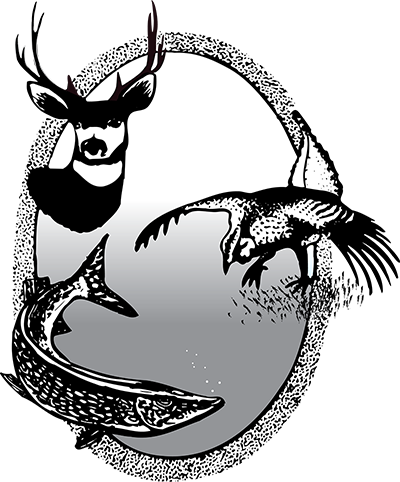 Authors and Contributors
Fall Mule Deer Survey
Smartphone Apps for Ice Fishing
Advancements in technology, easily retrieved on the Game and Fish Department's website, allow ice anglers access to more than 200 lake contour maps, providing yet another tool in the angler's tackle box.
"Back when we first started mapping in the early 2000s, anglers pretty much had to print a paper lake contour map at home and take it with them to help navigate and find the underwater features," said Jerry Weigel, Department fisheries production and development section supervisor.
Times have changed.
Anglers now have access to two free smartphone mobile apps on the Game and Fish Department website, both of which provide interactive functionality and work with a phone's GPS.
One option, Weigel said, is ESRI ArcGIS Explorer, which requires cellular service to work in the field.
"When you're out on the lake and you have the app running, it literally has the lake contour lines and everything," he said. "It'd be the exact same thing you would do with your Lowrance GPS or young Hummingbird GPS when you're navigating open water in the summer."
Considering cellular service is iffy, at best, on about 30% of North Dakota's fishing waters, there are benefits to downloading maps to your mobile device before leaving home using the Avenza Geospatial PDF app.
"With this electronic fishing map information and you see there's a sunken island out there, you can literally drive right to it on the ice using either of the two technologies," Weigel said.
Weigel added that there is something anglers need to keep in mind when using this GPS technology on their favorites fishing waters.
"They imply they're absolute," he said. "In other words, when it says it's 15 feet deep, we say that there's 15-foot depth in that general area. But folks need to keep in mind that their GPS's are plus or minus 10 feet at the best."
What's more certain, if Mother Nature allows, are the opportunities afforded ice anglers this winter across North Dakota's landscape.
"There have never been stronger populations of fish than there is now," Weigel said. "It's amazing. And we literally have twice the number of fishing lakes as there once was."
NDGF and USDA Partner to Help Landowners with CRP Offers
Hunting and Fishing Legislation on Game and Fish Website
Fish Caught Deep
Tentative Season Opening Dates
To help North Dakota hunters prepare for hunting seasons in 2021, the North Dakota Game and Fish Department annually provides its best estimate for opening dates for the coming year.
Dates become official when approved by governor's proclamation. Tentative opening dates for 2021 include:
Spring turkey – April 10
Dove – Sept. 1
Deer and pronghorn bow, mountain lion – Sept. 3
Sharptail, Hun, ruffed grouse, squirrel – Sept. 11
Youth deer – Sept. 17
Youth waterfowl – Sept. 18
Early resident waterfowl – Sept. 25
Pronghorn gun – Oct. 1
Regular waterfowl, youth pheasant – Oct. 2
Pheasant, fall turkey – Oct. 9
Mink, muskrat, weasel trapping – Oct. 23
Deer gun – Nov. 5
Pronghorn Season Statistics
Fish House Regulations
Ice Awareness
Considering the unusually warm weather in early December, ice anglers, hunters and trappers are reminded to be aware of ice conditions before traveling onto and across North Dakota waters.
A few reminders include:
Edges firm up faster than farther out from shore.
Snow insulates ice, which in turn inhibits solid ice formation, hiding cracks, weak and open water areas.
Ice can form overnight, causing unstable conditions. Ice thickness is not consistent, as it can vary significantly within a few inches.
Avoid cracks, pressure ridges, slushy or darker areas that signal thinner ice. The same goes for ice that forms around partially submerged trees, brush, embankments or other structures.
Anglers should drill test holes as they make their way out on the lake, and an ice chisel should be used to check ice thickness while moving around.
Daily temperature changes cause ice to expand and contract, affecting its strength.
The following minimums are recommended for travel on clear-blue lake ice formed under ideal conditions. However, early in the winter it's a good idea to double these figures to be safe: 4 inches for a group walking single file; 6 inches for a snowmobile or all-terrain vehicle; 8-12 inches for an automobile; and 12-15 inches for a pickup/truck.
And some life-saving safety tips:
Wear a personal flotation device and carry a cell phone.
Carry ice picks or a set of screwdrivers to pull yourself back on the ice if you fall through.
If someone breaks through the ice, call 911 immediately. Rescue attempts should employ a long pole, board, rope, blanket or snowmobile suit. If that's not possible, throw the victim a life jacket, empty water jug or other buoyant object. Go to the victim as a last resort, but do this by forming a human chain where rescuers lie on the ice with each person holding the feet of the person in front.
To treat hypothermia, replace wet clothing with dry clothing and immediately transport the victim to a hospital.
Order 2021 OUTDOORS Calendars
Watchable Wildlife Checkoff on State Tax Form
North Dakota citizens with an interest in supporting wildlife conservation programs are reminded to look for the Watchable Wildlife checkoff on the state tax form.
The state income tax form gives wildlife enthusiasts an opportunity to support nongame wildlife like songbirds and birds of prey, while at the same time contributing to programs that help everyone enjoy all wildlife.
The checkoff – whether you are receiving a refund or having to pay in – is an easy way to voluntarily contribute to sustain this long standing program. In addition, direct donations to the program are accepted any time of year.
To learn more about Watchable Wildlife program activities online.
Coyote Catalog
Landowners can sign up on the Department of Agriculture website. Hunters and trappers can sign up at the Game and Fish website.
Anyone who registered for the Coyote Catalog in the past must register again to activate their names on the database.
Throughout winter, hunters or trappers may receive information on participating landowners, and they should contact landowners to make arrangements.
Landowners experiencing coyote depredation of livestock should first contact the U.S. Department of Agriculture Wildlife Services.
The Coyote Catalog will remain active through March 31, 2021.
For more information, contact Ryan Herigstad at Game and Fish, 701-595-4463 or rherigstad@nd.gov; or Jamie Good, at the Department of Agriculture, 701-328-2659 or jgood@nd.gov.
Staff Notes
Game and Fish Recognizes Employee Efforts
North Dakota Game and Fish Department Director Terry Steinwand recently honored employees with performance-based awards. Steinwand presented the following employees with special recognition awards during the Department's virtual staff meeting in December.
Ashley Peterson, photographer/videographer, Bismarck, was recognized for her efforts in livestreaming the spring and fall advisory board meetings.
Bob Frohlich, fisheries development supervisor, Bismarck, was recognized for fisheries development projects, specifically with state, federal and local permitting, and federal grant funding and construction plans.
Brett Wiedmann, big game biologist, Dickinson, was recognized for his leadership in coordinating a bighorn sheep translocation from Rocky Boy's Indian Reservation in Montana to Fort Berthold Indian Reservation.
In addition to special recognition recipients, Drew Johnson, district game warden, Finley, was named North Dakota's Boating Officer of the Year. His district includes several smaller lakes and reservoirs, along with the Red River. Chief game warden Scott Winkelman said warden Johnson's work ethic and attitude are exemplified in his passion for boating law enforcement.