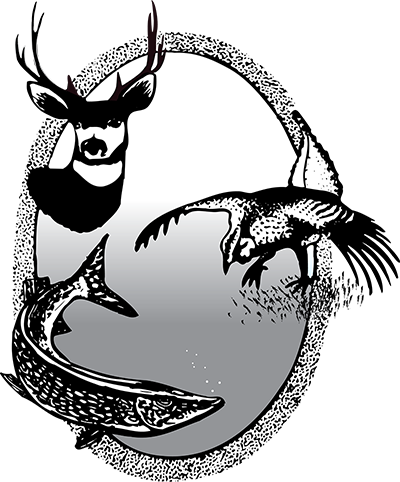 Lotteries are held to distribute licenses for the following species: deer, moose, elk, bighorn sheep, pronghorn, tundra swan and wild turkey. Information on lotteries (dates, species information, bonus points calculations, FAQs, etc.) can be found on the Department's General Lottery Information page.
Applying for a Lottery | Applying for Remaining Licenses | Viewing Bonus Points
NOTES:
During the purchase/application process, do not use your browser's back button to navigate to previous pages. Always use the buttons provided within the webpage itself.
You must have JavaScript enabled in your browser in order to use the online services system.
Applying for a Lottery
(Click on images to enlarge.)
My Account Page Links

(Card 3)
Applicant Selection

(Card 4)
---
You can apply for a lottery for yourself, individual family or friends, and parties. If you wish to apply for an individual family member, friend, or a party, you must have all necessary profile information for each person. Once you have applied for a lottery for another individual, that person will be listed automatically on this page. This allows you to apply for that person in the future without needing to reenter all their information.
If you are applying for a party, select the 'party leader' here. Other party members will be added later in the process.
Residency Confirmation

(Card 5)
Application Details

(Card 7)
---
Select the unit and license type here.
Party Applications: If this is a party application, you add members on this page. Be aware that the lowest bonus points for any member will be the bonus points used for all members in a party application. So if, for example, 3 of your members have 4 bonus points and one has 1 bonus point, 1 bonus point will be used for the entire party for the application.
Order Verification

(Card 9)
Leftover Licenses

(Card 13)
---
After a lottery has been run there may be remaining licenses available for purchase (i.e. when there were more licenses in a hunting unit than there were applicants). To determine if there are licenses left over after a lottery has been run, go to the "License Availability" page and select the species you want.
Viewing Your Bonus Points

(Card 15)
---
You can view your existing bonus points by going to your "My Account" page and scrolling down to the Current Lottery Bonus Points section. To see your bonus points history, click on the View Bonus Point Details. This will popup a list of your bonus points by year. See the General Lottery Information page for an explanation of the bonus points system.
If you still have questions about or problems with the system after reviewing this tutorial, please contact the Department at 701-328-6300 or ndgf@nd.gov.