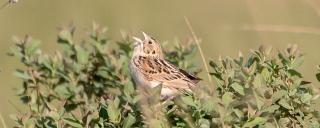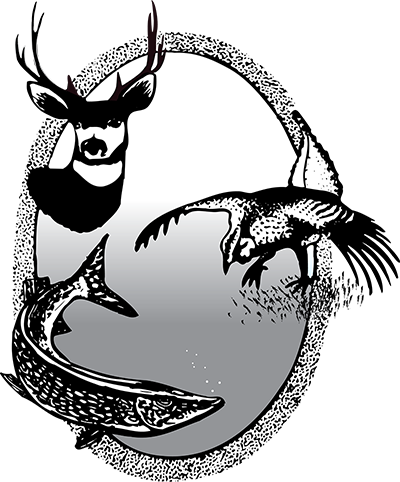 Fact Sheet

| | |
| --- | --- |
| Scientific Name | Ammodramus bairdii |
| General Description | L 5.5", WS 8.75", 0.6 oz. Brownish overall except for yellow-orange color on a flat head. A narrow band of fine dark streaks on the breast and broken eye-line also characterize this cryptic species. |
| Status | Occurs in North Dakota from May to August. Peak breeding season early June to late July. |
| Abundance | Fairly common to uncommon |
| Primary Habitat | Extensive tracts of native mixed-grass prairie or lightly grazed pastures |
| Federal Status | Migratory Bird |
| Reason for Designation | The Baird's Sparrow was once abundant in North Dakota. This sparrow has a restricted breeding range limited to parts of Canada, Montana, South Dakota and the majority of North Dakota. It is included on the National USFWS Birds of Conservation Concern list, and also in Region 6, BCR 11 and 17. Partners in Flight (PIF) identifies the Baird's Sparrow as a Regional Concern and Stewardship Species, U.S.-Canada Concern and Stewardship Species, and a Tri-national Concern Species. |
Locations and Conditions of Key Habitat
Preferred Habitat
Baird's Sparrows prefer native prairie, but will also utilize idle, tame grasslands, and grazed pastures. CRP, wet meadows, or dense grass within hay land and cropland is utilized to a lesser extent. Vegetative structure may influence use more so than vegetative species composition. Stands of grasses with narrow leaves are readily used whereas stands with broad-leaved grasses or abundant low-growing shrubs such as snowberry are often avoided. Native plant communities with needlegrass, grama, Junegrass, and bluestem species are correlated with high Baird's Sparrow abundance in North Dakota. The percentage of club moss cover also is positively correlated to high abundance. Territory size in North Dakota ranges from .8 to 2.25 ha. Minimum area requirements for Baird's Sparrows are unknown, but it is presumed large, contiguous tracts of native prairie are required to maintain populations. Forages on the ground for insects and seeds.
Key Areas and Conditions for Baird's Sparrows in North Dakota
Highest densities of Baird's Sparrows are found in northwestern North Dakota, particularly in Divide, Williams, Burke, Mountrail and Ward counties. Much native prairie remains in McHenry and Kidder Counties and may also attract a high number of this species.
Problems Which May Affect this Species
Habitat
Conversion of grassland to cropland, energy development and urban expansion. Loss of native prairie in North Dakota has greatly affected this species. Degraded prairie habitat, particularly invasion of Kentucky bluegrass, threatens Baird's Sparrow populations. Deemed woodland-sensitive, occurrence declines with increasing tall shrub (>1m) cover. Increased woodland and brush cover also negatively affects this species. CRP can be beneficial to Baird's Sparrows dependent upon structure and native species composition, and by creating larger grassland patches. Increasing loss of grassland on the wintering grounds in the Chihuahuan Desert may be contributing to the decline of Baird's Sparrows.
Other Natural or Manmade Factors
Parasitism by brown-headed cowbirds may be greater than for other grassland birds. Nest depredation is the most important factor affecting nest success, followed by weather. Pesticide acute toxicity may be a potential contributor to declines of grassland birds. Grassland birds avoid habitat within 150 meters of roads and 350 meters of oilfield infrastructure, likely due to anthropogenic disturbance of heavy traffic and/or changes in habitat near oil development.
Research and Survey Efforts
Current Research or Surveys
Rocky Mountain Bird Observatory (ND SWG T-46-R) is estimating demographic rates of Baird's Sparrow and other grassland birds in western North Dakota. A final report is anticipated in 2018.
Previous Research or Surveys
University of Montana (ND SWG T-1-R) developed breeding bird models which link population density to local and landscape habitat features in the Prairie Pothole Region of North Dakota. Baird's Sparrow was one of 16 grassland bird focal species. The project was initiated in 2002, a final report was provided in 2004 (Naugle 2005), and dissertation in 2007 (Quamen 2007). Further analysis of the data was recently analyzed on 5 study species (Doherty et al. in press). Baird's Sparrows showed avoidance of cropland or selection for grassland at both the landscape and local scales, avoidance for exotic grasses, and showed negative relationship to visual obstruction.
Fair number of published reports and gray literature on this species throughout its range.
Additional Research or Surveys Needed
Determine the effect of Kentucky bluegrass invasion on Baird's Sparrow presence/abundance.
Population and Trend Estimates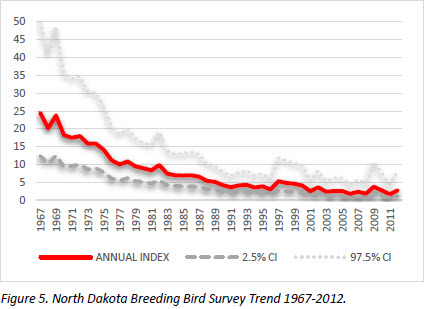 PIF Global Population Estimate: 2,000,000
PIF North American Population Estimate: 2,000,000
PIF North Dakota Population Estimate: 400
North Dakota BBS Trend: see figure 5
Survey-wide BBS Trend 1966-2012: -2.96
Management Recommendations
Protect or create large tracts of grassland, particularly native prairie.
Prevent encroachment of woody vegetation in grasslands.
Encourage vegetative diversity.
Practice rotational burning: intervals of 3-4 years in tallgrass prairie, 6 years in mixed-grass prairie, and 5-10 years in shortgrass prairie.
Delay mowing until July 15.
Use native grasses when replanting or restoring grassland.
Monitoring Plans
According to the Partners in Flight Landbird Conservation Plan, long-term population trend monitoring such as the Breeding Bird Survey is generally considered adequate Ensuring all BBS routes are conducted annually is priority. Future monitoring proposals should follow recommendations North American Bird Conservation Initiative 'Opportunities for Improving Avian Monitoring'.
2005-2015 Progress
The Baird's Sparrow remains a Level I Species of Conservation Priority. Several State Wildlife Grant Projects (T2-11-HM, T-18-R, T-20-D, T-21-D, T-22-HM, T-23-HM, T-25-HM, T-28-L, T-37-D) have contributed to habitat enhancement grasslands for Baird's Sparrow and other grassland dependent birds.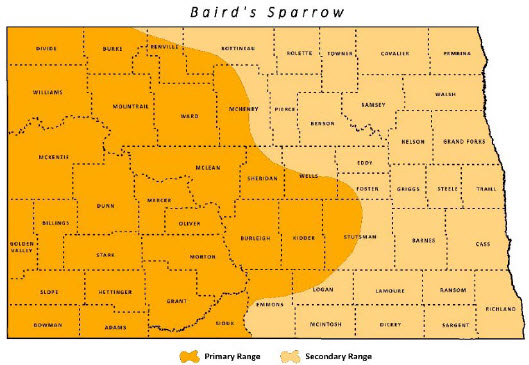 Note: A listing of works consulted when compiling the information on this page may be found in the 2015 State Wildlife Action Plan.