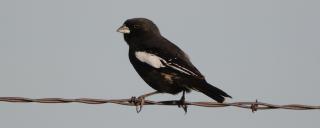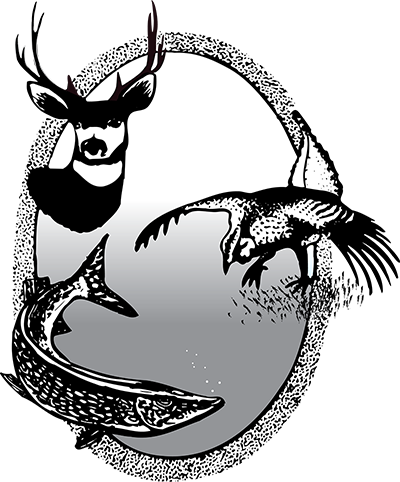 Fact Sheet

| | |
| --- | --- |
| Scientific Name | Calamospiza melanocorys |
| General Description | L 7", WS 10.5", 1.3 oz. Males all black except for broad patches of white on wings and tips of the tail. Females are graybrown with dark streaks on a white breast. |
| Status | Occurs in North Dakota from May to August. Peak breeding season early June to early August. |
| Abundance | Abundant to common. |
| Primary Habitat | Sagebrush communities or mixed-grass prairie interspersed with shrubs, roadsides, and retired cropland. |
| Federal Status | Migratory Bird. |
| Reason for Designation | Although still rather common, this species has declined dramatically. Partners in Flight (PIF) identifies the Lark Bunting as a Regional Concern and Stewardship Species, U.S.-Canada Stewardship Species, and a Common Bird in Steep Decline. |
Locations and Conditions of Key Habitat
Preferred Habitat
Lark Buntings prefer grassland of low to moderate height with a component of shrubs such as sagebrush. Weedy cropland, no-till or minimum-till cropland, CRP, hayland, and pastures also are used. Abundance may be positively correlated with litter depth. Nests are built on the ground under forbs, low shrubs, cactus, yucca, or tall grass for protection. Lark Buntings may be area sensitive and require large tracts of contiguous grassland. Feed on a variety of insects and seeds.
Key Areas and Conditions for Lark Bunting in North Dakota
No specific sites have been identified. Once common throughout state except for Red River Valley, Lark Buntings are most abundant south and west of the Missouri River.
Problems Which May Affect this Species
Habitat
Destruction and/or degradation of prairie will negatively affect the population, although this species has shown some adaptability to nesting in agricultural fields. However, risk of nest destruction by farm machinery is probable. Burning removes shrub cover and Lark Buntings may avoid frequently burned grasslands. CRP benefits to Lark Buntings. It has been predicted if all CRP in North Dakota were converted back to cropland, the number of Lark Buntings would be reduced by about 17%.
Other Natural or Manmade Factors
Parasitism by brown-headed cowbirds is infrequent. Collisions with vehicles during the breeding season occur. Lark Buntings appear susceptible to drowning in stock water tanks, especially those containing mats of algae. It is presumed the birds are attracted to this water source, become entangled in the algae and drown.
Research and Survey Efforts
Current Research or Surveys
Rocky Mountain Bird Observatory (ND SWG T-XX-R) is estimating demographic rates of Lark Bunting and other grassland birds in western North Dakota. A final report is anticipated in 2018.
Previous Research or Surveys
University of Montana (ND SWG T-1-R) developed breeding bird models which link population density to local and landscape habitat features in the Prairie Pothole Region of North Dakota. Grasshopper Sparrow was one of 16 grassland bird focal species. The project was initiated in 2002, a final report was provided in 2004 (Naugle 2005), and dissertation in 2007 (Quamen 2007).
Little effort has been applied to research or surveys specifically for Lark Buntings in North Dakota. Several studies which include Lark Bunting and other grassland or shrubland associated species have taken place in North Dakota. Examples include the benefits of CRP to grassland nesting passerines and the effects of various management practices.
Numerous published reports and gray literature on this species throughout its range.
Additional Research or Surveys Needed
Nothing identified at this time.
Population and Trend Estimates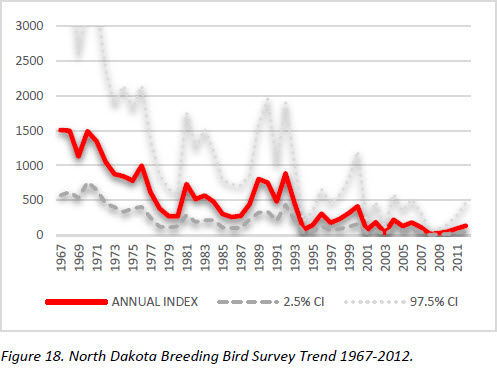 PIF Global Population Estimate: 9,100,000
PIF North American Population Estimate: 9,100,000
PIF North Dakota Population Estimate: 600,000
North Dakota BBS Trend: see figure 18
Survey-wide BBS Trend 1966-2012: -3.55
Management Recommendations
Protect or create large tracts of grassland and shrubland.
Do not remove all brush cover when burning.
Delay mowing until after the breeding season.
Heavily graze vegetation over 30 cm tall to produce shorter, sparser grass.
Encourage no-till or minimum-till.
Remove abandoned stock water tanks.
Monitoring Plans
According to the Partners in Flight Landbird Conservation Plan, long-term population trend monitoring such as the Breeding Bird Survey is generally considered adequate, but may not account for some issues (e.g. bias). Ensuring all BBS routes are conducted annually is priority. Future monitoring proposals should follow recommendations North American Bird Conservation Initiative 'Opportunities for Improving Avian Monitoring'.
2005-2015 Progress
The Lark Bunting remains a Level I Species of Conservation Priority. Several State Wildlife Grant Projects (T2-11-HM, T-18-R, T-20-D, T-21-D, T-22-HM, T-23-HM, T-25-HM, T-28-L, T-37-D) have contributed to habitat enhancement grasslands for Lark Buntings and other grassland dependent birds.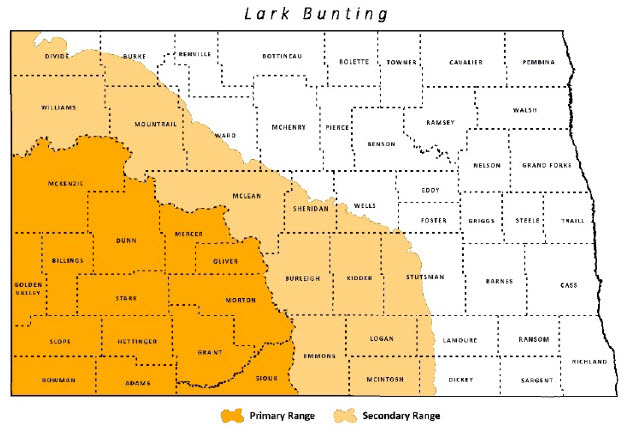 Note: A listing of works consulted when compiling the information on this page may be found in the 2015 State Wildlife Action Plan.