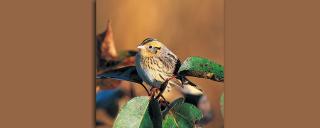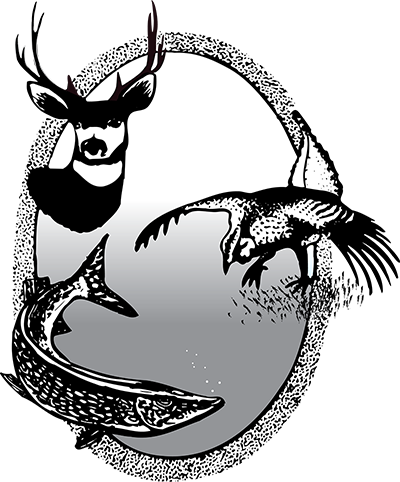 Fact Sheet

| | |
| --- | --- |
| Scientific Name | Ammodramus leconteii |
| General Description | L 5", WS 6.5", 0.46 oz. Pale, yellow-brown, fine streaks along the breast and sides, and a white stripe on crown. |
| Status | Occurs in North Dakota from mid- April to mid-October. Peak breeding season late May to mid-August. |
| Abundance | Fairly common. |
| Primary Habitat | Fens, wet meadows, and marshes of sedge grasses. |
| Federal Status | Migratory Bird. |
| Reason for Designation | A fair portion of the species' range includes North Dakota. Partners in Flight (PIF) identifies the Le Conte's Sparrow as a Regional Stewardship Species and U.S.-Canada Stewardship Species. |
Locations and Conditions of Key Habitat
Preferred Habitat
Le Conte's Sparrows use open habitat of marshy or sedge meadows, moist areas of level uplands and lowlands, native or tame prairie, CRP, DNC, hayfields, and idle pasture. Ares of tall, thick herbaceous vegetation and dense litter are used. Breed in hummocky alkali fens, tallgrass prairie, wet-meadow zones of wetlands, and tame hayfields. Appear to avoid areas of shrubs and other woody vegetation. Associated with a high amount of grass cover, particularly broad-leaved introduced grasses. Nest on or above the ground in dense vegetation. Usually forage on the ground for arthropods and seeds.
Key Areas and Conditions for Le Conte's Sparrow in North Dakota
No specific sites have been identified.
Problems Which May Affect this Species
Habitat
Presence of Le Conte's Sparrow is affected by the yearly moisture conditions. CRP has shown to be important breeding habitat for this species, but only under wet conditions. Deemed woodland sensitive,increased woodland cover negatively affects this species.Annual grazing, mowing, and haying may negatively affect their presence, but periodic maintenance of grassland is needed to stimulate grass growth or prevent woody encroachment.
Other Natural or Manmade Factors
Nest parasitism is low. Some mortality from collisions with communication towers.
Research and Survey Efforts
Current Research or Surveys
There is currently nothing specific to the species in North Dakota.
Previous Research or Surveys
University of Montana (ND SWG T-1-R) developed breeding bird models which link population density to local and landscape habitat features in the Prairie Pothole Region of North Dakota. Le Conte's Sparrow was one of 16 grassland bird focal species. The project was initiated in 2002, a final report was provided in 2004 (Naugle 2005), and dissertation in 2007 (Quamen 2007).
From 1998-2002, Winter et al. (2005) examined Le Conte's Sparrow density based on year, region, climate, vegetation structure, grassland patch size, percent trees and shrubs in the landscape, rates of return of banded individuals, nest parasitism, nest success, and other basic nesting parameters in southeast North Dakota. Nesting success was highly variable among sites and years and increased slightly with distance from trees. One of only 93 banded individuals returned.
Little effort has been applied to research or surveys specifically for Le Conte's Sparrow in North Dakota. Several studies which include Le Conte's Sparrow and other grassland associated species have taken place in North Dakota. Examples include the benefits of CRP to grassland nesting passerines and the effects of various management practices.
Fair number of published reports and gray literature on this species throughout its range.
Additional Research or Surveys Needed
Nothing identified at this time.
Population and Trend Estimates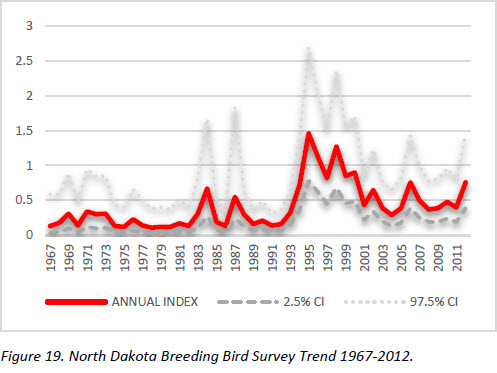 PIF Global Population Estimate: 8,000,000
PIF North American Population Estimate: 8,000,000
PIF North Dakota Population Estimate: 300,000
North Dakota BBS Trend: see figure 19
Survey-wide BBS Trend 1966-2012: -1.75
Management Recommendations
Protect grassland and marshes.
Burn every 2-4 years in mesic, mixed-grass prairie.
Avoid annual mowing, delay mowing until after July 15.
Discourage mowing or grazing of CRP during extremely wet years.
Do not leave habitat idle for so long that litter becomes over-accumulated.
Construction of communication towers should follow the guidance of "Service Interim Guidelines for Recommendations on Communications Tower Siting, Construction, Operation, and Decommissioning" and American Bird Conservancy Collision Program framework.
Monitoring Plans
According to the Partners in Flight Landbird Conservation Plan, long-term population trend monitoring such as the Breeding Bird Survey is inadequate in the northern range for this species. Future monitoring proposals should follow recommendations North American Bird Conservation Initiative 'Opportunities for Improving Avian Monitoring'.
2005-2015 Progress
The Le Conte's Sparrow remains a Level II Species of Conservation Priority. Several State Wildlife Grant Projects(T2-11-HM, T-18-R, T-20-D, T-21-D, T-22-HM, T-23-HM, T-25-HM, T-28-L, T-37-D) have contributed to habitat enhancement grasslands for Le Conte's Sparrow and other grassland dependent birds.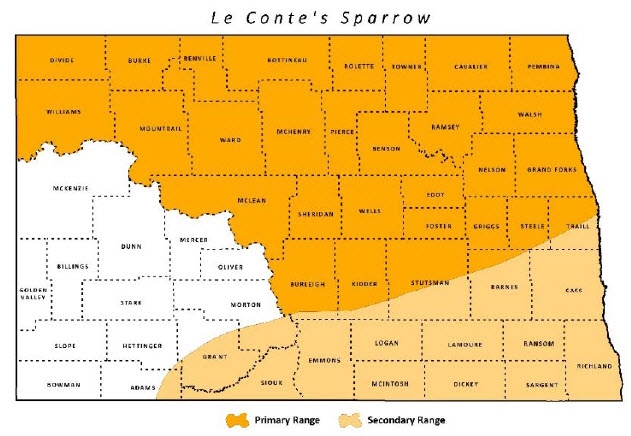 Note: A listing of works consulted when compiling the information on this page may be found in the 2015 State Wildlife Action Plan.