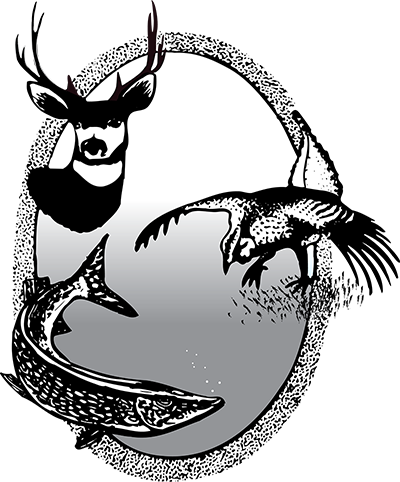 Fact Sheet

| | |
| --- | --- |
| Scientific Name | Lanius ludovicianus |
| General Description | L 9", WS 12", 1.7 oz. Gray body, black wings, white wing patch, black eye mask and white throat. |
| Status | Occurs in North Dakota from mid-March to October. Peak breeding season early May to mid-July. |
| Abundance | Fairly common to uncommon. |
| Primary Habitat | Open country with thickets of small trees, shrubs, and shelterbelts. |
| Federal Status | Migratory Bird. |
| Reason for Designation | The cause for significant range-wide declines is unclear. It is included on the National USFWS Birds of Conservation Concern list, and also in Region 6 and BCR 17. Partners in Flight (PIF) identifies the Loggerhead Shrike as a Common Bird in Steep Decline. |
Locations and Conditions of Key Habitat
Preferred Habitat
Loggerhead Shrikes use open habitat of short grass interspersed with bare ground and shrubs or low trees. They can be found using a variety of habitats including prairies, pastures, sagebrush, fencerows, shelterbelts, riparian areas, open woodlands, farmsteads, suburban areas, mowed road rights-of-way, and cemeteries. Scattered thick or thorny shrubs and trees are used for nesting, hunting perches, and prey impalement locations. Often an isolated tree within these habitats is chosen for the nest site. Nests are well concealed and placed 1-2.5 meters above the ground. Forage over shorter grass for arthropods, mammals, birds, reptiles, amphibians, and sometimes carrion. Average territory is 6-9 ha.
Key Areas and Conditions for Loggerhead Shrike in North Dakota
No specific sites have been identified. Most abundant west of the Missouri River, less common in the Red River Valley and Drift Prairie.
Problems Which May Affect this Species
Habitat
Conversion of grassland to cropland, energy development and urban expansion. Degradation of grasslands from invasive plants, succession, and loss of diversity. Excessive tree encroachment into prairie can have negative impacts. However, removal of all small trees and shrubs will limit nesting sites.
Other Natural or Manmade Factors
A number may be killed by automobiles when plucking injured or dead insects from roads. Brown-headed cowbird parasitism occurs but at low rates. The effect of contaminants is unclear but some data suggests the species decline coincides with the increased use of organochlorines in the 1940s-70s. Pesticides can limit prey abundance.
Research and Survey Efforts
Current Research or Surveys
There is currently nothing specific to the species in North Dakota.
Previous Research or Surveys
Long-term monitoring of shelterbelts in Sioux County for Loggerhead Shrike nests occurred from 1984 to 2010. The number of breeding pairs fluctuates but no consistent trend over time has been shown. Fledging success is high but return rate is low with the low return rate attributed to low site fidelity.
Numerous published reports and gray literature on this species throughout its range.
Additional Research or Surveys Needed
Explore possible sources of Loggerhead Shrike population declines.
Determine the effects of pesticides on prey species.
Population and Trend Estimates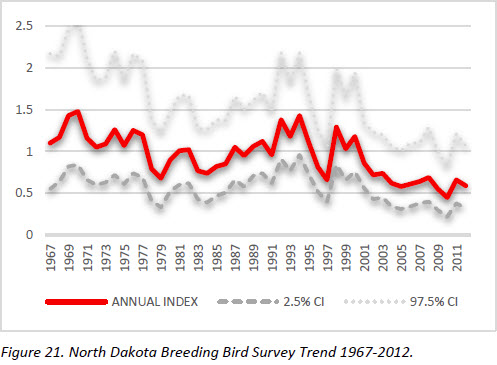 PIF Global Population Estimate: 5,800,000
PIF North American Population Estimate: 4,900,000
PIF North Dakota Population Estimate: 100,000
North Dakota BBS Trend: see figure 21
Survey-wide BBS Trend 1966-2012: -3.18
Management Recommendations
Maintain low, thick shrubs and trees along fence lines and other areas in pasture.
Diversify shelterbelts by incorporating thorny trees and bushes such as hawthorn, hedge rose, or honey locust and plant a 2-4 meter strip of grass around shelterbelts.
Use light grazing to reduce vegetation height, but keep a few areas of tall grass for small mammal prey.
Protect old shelterbelts and nesting bushes from cattle grazing and rubbing.
Monitoring Plans
According to the Partners in Flight Landbird Conservation Plan, long-term population trend monitoring such as the Breeding Bird Survey is generally considered adequate, but may not account for some issues (e.g. bias). Ensuring all BBS routes are conducted annually is priority. Future monitoring proposals should follow recommendations North American Bird Conservation Initiative 'Opportunities for Improving Avian Monitoring'.
2005-2015 Progress
The Loggerhead Shrike remains a Level II Species of Conservation Priority. Several State Wildlife Grant Projects (T2-11-HM, T-18-R, T-20-D, T-21-D, T-22-HM, T-23-HM, T-25-HM, T-28-L, T-37-D) have contributed to habitat enhancement grasslands for Loggerhead Shrike and other grassland dependent birds.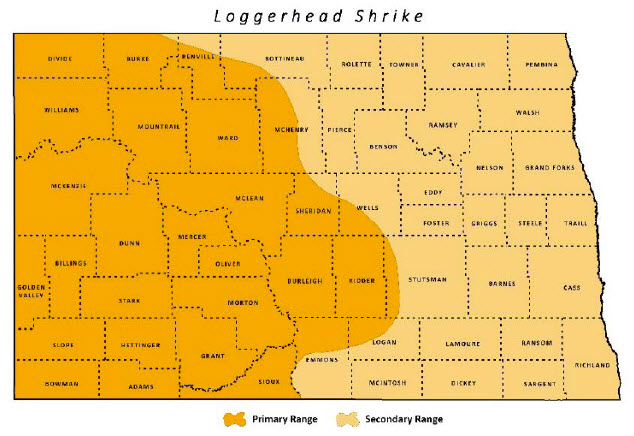 Note: A listing of works consulted when compiling the information on this page may be found in the 2015 State Wildlife Action Plan.